The CISWORKS-RCP can be used as a Rapid Control Prototyping System or as an OEM embedded controller for small to medium quantities. The CISWORKS RCP has four ports for peripheral modules to allow easy integration of project-specific I/O. Thus, a wide range of components can be connected, such as: A/D converters, temperature sensors, pressure sensors, relays, valves, or custom signal conditioning.

Users are able to save development time and mitigate risk, because it is noch required to develop a custom motherboard. Instead, they have access to a fully integrated middleware solution. This allows users to concentrate fully on application development and connectivity of specific I/O. The National Instruments System on Module (SOM), which runs the NI Linux Real-Time Operating System, acts as the board's processor. Through this device, applications can be developed quickly and effectively using NI LabVIEW.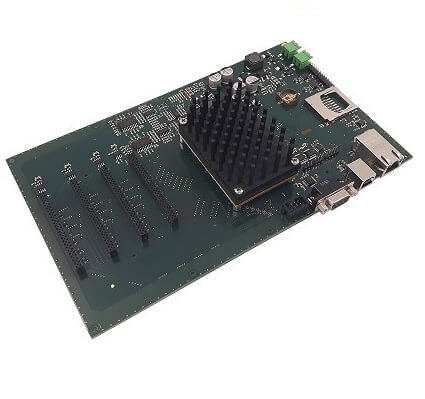 CISWORKS-RCP
4 Module slots for cost-effective and rapid development
Specific signal conditioning on custom hardware modules fulfill multiple application requirements
NI Linux Real-Time: powerful RTOS with the flexibility of Linux
Reconfigurable Controller ARM Cortex-A9
2 cores (CPU frequency 667 MHz)
Non-volatile memory 512 MB
FPGA: Xilinx Zync-7000 XC7Z02
4 module slots
3M 929 Serie (929975-01-25-RK / 929665-09-25-I)
Interfaces
1x Ethernet – RJ45
1x USB
SDHC – SD Card
3x RS232
1x RS485
2x CAN
SPI
Power supply per module
24V @ 0,5A
12V @ 0,1A
5V @ 0,5A
Application Examples
find it here
Interested?
CISWORKS GmbH & Co. KG
Hans-Liebherr-Str. 18
88161 Lindenberg