Universal HIL Simulator
CISWORKS UHS-3001
We have taken the most important functions of an HIL simulator and implemented them in a space-saving and cost-effective test rack.

As a National Instruments Alliance Partner, we, of course, looked to the proven modularity of cRIOs and based our design on the same principle to provide high flexibility. Benefit from years of experience of our proven team and let us know your individual needs. This flexibility, combined with our team's years of experience, allows us to offer a hardware solution tailored to fit your needs.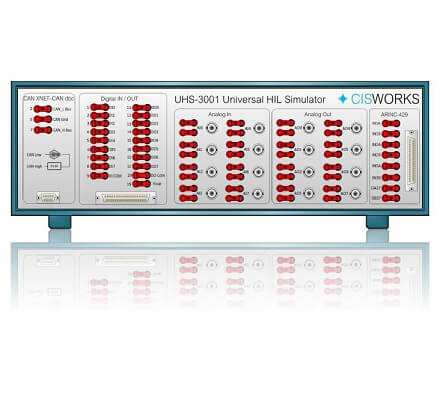 CISWORKS UHS-3001
li>The CISWORKS UHS-3001 universal HIL simulator is optimized for size and cost
It offers maximum flexibility through its modular structure and jumper-based signal routing
If desired, it can be equipped with corresponding software, also developed by CISWORKS
Supports LabVIEW Realtime, NI VeriStand and CISWORKS-ViPE
Konfiguration
Desktop enclosure housing 3HE, 84TE, depth 386 mm
Controller with Dual-Core-Processor, NI Linux Real-Time, Gigabit-Ethernet, USB, 2x RS232, Mini Display Port.
Standard I/O
High-Speed-CAN (NI-XNET)
16 digital inputs, 24 V
16 digital outputs, 24 V
32 analog inputs, ±200 mV bis ±10 V, 16 bit, 250 kS/s
16 analog outputs, ±10 V, 25 kS/s
ARINC 429, 8 receive channels, 1 broadcast channel
Flexible
Adjustable to your requirements
Interested?
CISWORKS GmbH & Co. KG
Hans-Liebherr-Str. 18
88161 Lindenberg